So I've been on a quest to find a sleeveless cardigan pattern that's knit in the round, something like this (by
Lucia
):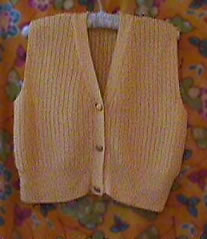 Man, I never knew it was so hard to find such a thing!! The cardigan (aka button up vest) is for my dad, so I want to find a "good" looking vest that's also fairly easy to make. (Easy meaning not much sewing up of pieces.)
I think I'm going to start with a pattern generator (
KnitWare
is so far my favorite, because the directions are clear and the diagrams are very good) then tweek it so it's in the round. I might try
steeking
because it *seems* easier than having to work the top portion of the front and back pieces.
Of course I'm going to make a small doll/child vest first to try. My goal is to finish my dads vest by the end of next week, which means I should finish the sample vest by this weekend. We'll see!